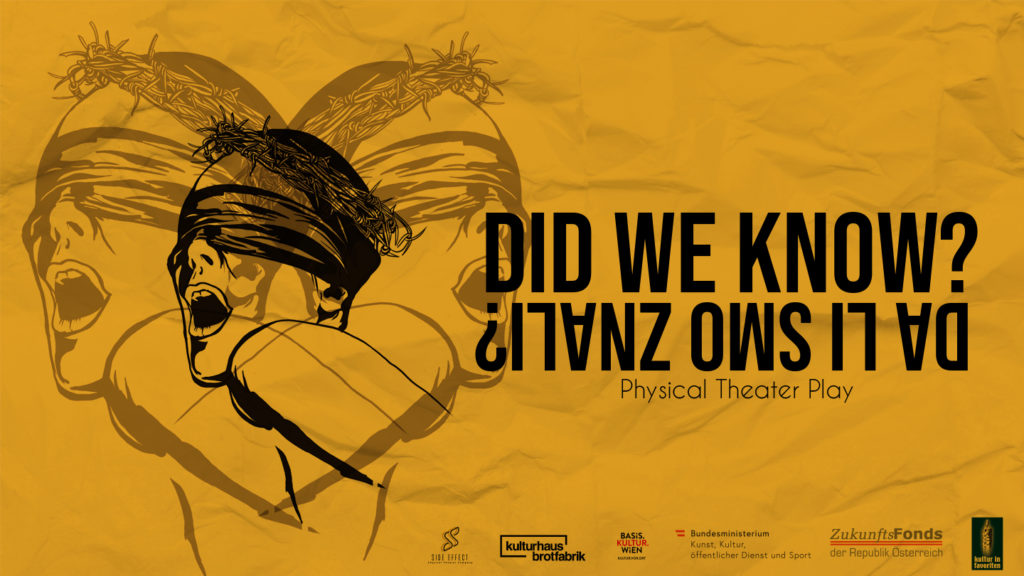 Physical theater company Side Effect is thrilled to announce the beginning of a new project and development of a new theater piece called "Did we know?Da li smo znali?"
This project is exploring topics of wars in the ex-Yugoslavia during the nineties with emphasis on memories and personal experiences.
Who has the right to remember?
What stays on the top of our minds? How do our reflections connect us?
The body is a living memorial.
Of collective memory. Of moving memory.
Yugoslavia, the place where reminiscences collide.
Did we know what was happening on the "other side"? Why didn't we?
Wars.
Who creates narratives of collective memory?
Being disturbed is an unavoidable part of the recollection process and coming together. Is disturbance what we tend to avoid while remembering?
Soft, tender, nurturing spaces. For silence. For listening. For witnessing.
Raw. Entropic. Multilayered. Horrendous. Painful.
Spaces of softness and care, for memories to take a rest.
"I will listen,
I will hold your hand,
We can cry,
We can sing Sevdah,
While remembering,
While breathing,
While taking a rest in the midst of grief."
We would like to open the space for contributing to creative development of the piece for everyone who is interested to share their experience or personal story on these topics. Our aim is to present as many different perspectives as possible and create a space for mutual understanding, empathy and solidarity. Any form of contribution is welcomed. Texts, photographs, videos, poetry, drawings…
Collected materials will be used during creative development of the piece as inspiration.
If these topics are of interest for you or you are eager to share your experience and contribute to our creative process, please send us materials on: side.effect.theater@gmail.com till October 10, 2023.
Theater piece will premiere in Ankersaal- Kulturhaus Brotfabrik on October 27 at 19:30. Additional showings are on October 28 and 29. More information you can find here.
This project is made in cooperation with Physical Theater Company Side Effect and Kulturhaus Brotfabrik. It's supported by: Basis.Kultur Wien; Bundesministerium für Kunst, Kultur, öffentlichen Dienst und Sport; Zukunftsfonds der Republik Österreich; kultur in favoriten